By Dorian Lynskey published 15th June 2022
Why are the enigmatic star's mystical songs being constantly re-purposed? Because she is in her own unique, other world, writes Dorian Lynskey – and we all want to be there with her.
"Why are people so interested in me when I just make an album every now and then?" Kate Bush asked a journalist in 1989. One reason why Bush is a lodestar for so many artists is that she appears to care deeply about her art and not at all about the attention it invites. She only returns to the public eye when she has something to promote. Given that she hasn't released a studio album since 50 Words for Snow in 2011, and her 2014 concert residency (her first live shows in 35 years) sold out in a trice, that isn't very often. "I don't think my life is that interesting," she said in 2016. "I'm quite a private person and I like my work to do the talking."
Yet to call Bush a recluse would be unfair because she appears to live a very nice, normal life with her husband Danny McIntosh and is always gracious when she does have something to say. Recently the 63-year-old resurfaced to acknowledge the extraordinary viral success of her 1985 single Running Up That Hill (A Deal with God), after it played a crucial role in the latest season of TV's Stranger Things. The song has entered the Top 10 in both the UK and US. Last week it was by far the most streamed song in the world, overtaking the likes of Harry Styles and Bad Bunny, and is heading for number one in the UK charts this week. At least one well-meaning teenager is murdering it on TikTok as you read this. "It's all really exciting!" Bush wrote on her website while heaping praise on the show.
The song Running Up That Hill (A Deal with God) is about uplifting, radical empathy (Credit: Alamy)
Bush wrote the song in her house in the Kent countryside in the summer of 1983. The lyric is an expression of radical empathy: a fantasy about arranging with God to swap places with her lover so that each could fully understand the other at last. It's no surprise that it has become a LGBTQ+ anthem (and in 2018 featured in the TV series Pose). Appropriately, it was Bush's boyfriend and collaborator Del Palmer who programmed the urgent electronic drums that herald both the song and the Hounds of Love album. EMI nixed the original title, A Deal with God, lest it offend devout record-buyers and radio DJs, but the enforced alternative, as Graeme Thomson writes in his Bush biography Under the Ivy, was "a perfect analogy" for the album: "life is hard, but we're getting somewhere".
Her work combines a peculiarly English mysticism with an equally English taste for absurd humour
Some seasoned Bush fans are irritated by the current avalanche of latecomers but in the UK at least it makes no sense to be protective of a song that was a major hit in 1985, and was remixed for the closing ceremony of the 2012 Olympics. So she's not exactly buried treasure, yet she somehow retains the aura of a cult artist. "I have been quite surprised that a lot of my stuff, which isn't particularly mainstream, has been as successful as it has," she told me in 2011.
It is very hard to explain where Kate Bush came from. Not literally, of course – the daughter of a doctor and a nurse, she had a pleasant, somewhat bohemian middle-class upbringing in the Kent suburbs. Through a mutual friend of the family, a demo tape of more than 50 songs reached Pink Floyd's David Gilmour, which led to a deal with EMI when she was 16. Famously, she wrote her fourth single The Man with the Child in His Eyes when she was just 13. She said that it was what she did for fun. Her friends did ballet or gymnastics after school; she wrote songs.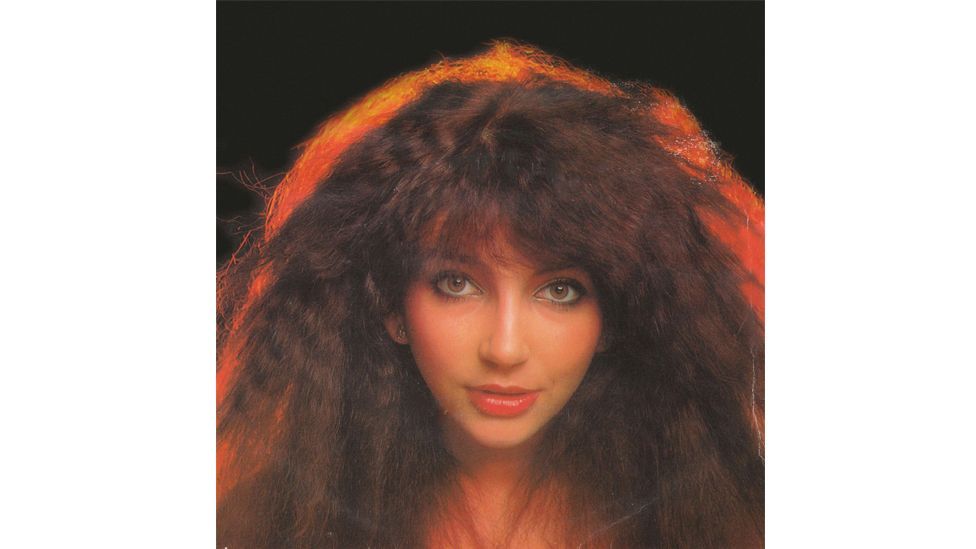 Bush's persona is both avant-garde and down to earth – a charismatic combination (Credit: Alamy)
But where did the songs come from? Now that's a mystery. She went to number one with Wuthering Heights in March 1978 during the heyday of punk and disco. For a 19-year-old newcomer to be outselling Abba, Blondie and the Bee Gees with a theatrical tribute to a novel from 1847 was really something. When we compare an artist to Joni Mitchell or Aretha Franklin, we are also invoking the broader traditions of the folk-rock singer-songwriter or soul music, but when we cite the influence of Kate Bush, we mean something unique. Her adolescent love of David Bowie and Elton John doesn't do much to explain what she went on to do with words, images, melody and voice. Her affection for the films of Powell and Pressburger, the novels of John Wyndham, folk tales and ghost stories is more revealing. Her work combines a peculiarly English mysticism with an equally English taste for absurd humour.
Entering a fantasy land
Bush's uncommonly risky decision to retire from touring at the age of 20 enabled her to concentrate on record-making, taking on the role of co-producer with 1980's Never for Ever and experimenting with the latest technology. Her spectacularly weird and wild self-produced follow-up, The Dreaming, was a slate-wiper that made anything possible. "Going into the studio every day with her was like entering a fantasy land," according to engineer Nick Launay. She developed a similar taste for creative control when it came to making music videos. For female artists who are used to seeing the credit for half their work go to male collaborators, her autonomy is an inspiration. "It's so great," St Vincent has said of The Dreaming. "She totally went for it."
Great female artists are often associated with the expression of emotional pain but Bush has a rare talent for joy, empathy and wonder
After the shock of The Dreaming, the most unexpected thing Bush could make was a smash hit. Thanks to singles such as Running Up That Hill and Cloudbusting, Hounds of Love became the UK's fourth biggest-selling album of 1985, right behind Dire Straits and Phil Collins. This is a record that draws inspiration from body-swapping, 1950s horror movies and the eccentric psychiatrist Wilhelm Reich, and devotes its second side to a hallucinatory song suite about a woman lost at sea, but Bush's sonic tastes chimed with the peak-80s popularity of Fairlight synthesisers and LinnDrum machines. It sounds both intimate and epic.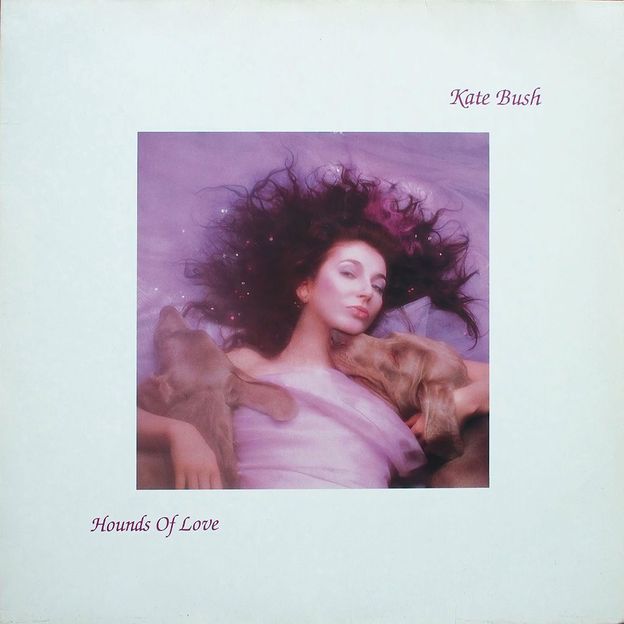 The 1985 album Hounds of Love is widely considered a masterpiece (Credit: Alamy)
It's fitting that Bush recorded two duets with Peter Gabriel. It wasn't unusual for artists in the 1980s to transition from art music to pop music (The Human League) or vice versa (Talk Talk) but Bush, like Gabriel, collapsed the distinction. While her vision sometimes overlapped with what the public wanted, she didn't care when it didn't. The new song she recorded for her 1986 victory-lap singles collection The Whole Story was Experiment IV, a bizarre number about a secret military project to develop a sonic superweapon, with a video deemed too gory for Top of the Pops. Yet not long afterwards she was perfectly happy to write a song for the John Hughes romcom She's Having a Baby. The extraordinarily moving This Woman's Work has since eclipsed the film, reappearing to great effect in TV series such as The Handmaid's Tale and Extras. She is someone who will invent 50 exquisite synonyms for snow (shimmerglisten, mountain-sob) and ask Stephen Fry to narrate them, or put Prince on the same song as Lenny Henry. In her music the separation between showbusiness and the avant-garde simply doesn't exist.
If Bush has ever fallen out of fashion, then it was during the 1990s, when she retreated from music for family reasons after the disappointment of 1993's The Red Shoes. That album was named after a film about a woman who is killed by her dedication to art. Her 2005 comeback, Aerial, resolved that tension by intertwining creativity, family life and nature in a more holistic way. Her music "comes from a quiet place," she said.
Her influence, however, has been constant, with disciples including Tori Amos, Fiona Apple, Lady Gaga, Bat for Lashes, Goldfrapp, Florence Welch, Joanna Newsom, Tricky and Outkast. Some artists open the door to a new room in the house of music; Bush is one of a handful whose imagination revealed the existence of a whole new wing. For her, anything can be the germ of a song (inspirations on Aerial include laundry, bird song and the number Pi) and any perspective is legitimate: a child, a foetus, a cockney bank robber, a Himalayan explorer, a man watching his wife give birth, a ghost. She is an adventurer and an alchemist; a perfectionist and a dreamer.
For a genius, Bush is unusually nice, with no reputation for tormented or difficult behaviour. The closest she has ever sailed to controversy is when she praised Theresa May, as a female prime minister, in 2016. From Joni and Aretha to Adele and Mary J Blige, great female artists are often associated with the expression of emotional pain – heartbreak is their engine – but Bush has a rare talent for joy, empathy and wonder.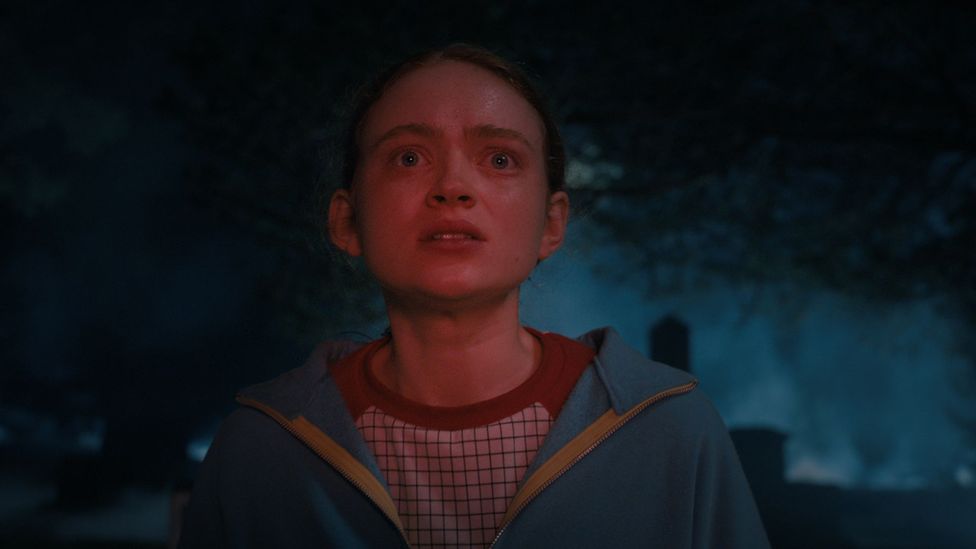 Bush's music has featured in TV series Stranger Things, The Handmaid's Tale and Extras, among others (Credit: Netflix)
In interviews she is lovely, if deftly evasive, unable or unwilling to put into words why and how she makes music of such magical intensity. The more that she denies that there is any mystery to unravel, the more fascinating she becomes. She told me that she loves it when listeners mishear or misread her songs as long as they take something positive from the experience: "Whether you've understood what the artist felt is basically irrelevant. It's how it makes you feel."
Running Up That Hill literally asks, "Do you want to feel how it feels?" – and tens of millions do. When I checked Spotify recently, it had clocked up 188m streams in its lifetime; by Monday the figure was 213m. Without lifting a finger, Bush is once again a pop sensation. So what more can we ask of her when the songs say so much?
Updated/maj. 18-06-2022
Vues : 79